0
Free standing punching bags are a great choice if you need to train in a space restricted area or you don't want to hang a bag off your wall or ceiling. They are great for improving cardiovascular fitness and can offer you all the benefits of a heavy punching bag. They come in many shapes and sizes, adjustable, inflatable and even in the shape of an upper body!
Best Free Standing Punching Bag Reviews
Free standing punching bags are normally filled with water or sand and can weigh in the region of 270lbs which ensures the unit stays still when being kicked and punched. Some good examples of free standing punch bags can be found below.
The 'Jhonny Sockittomee' by Everlast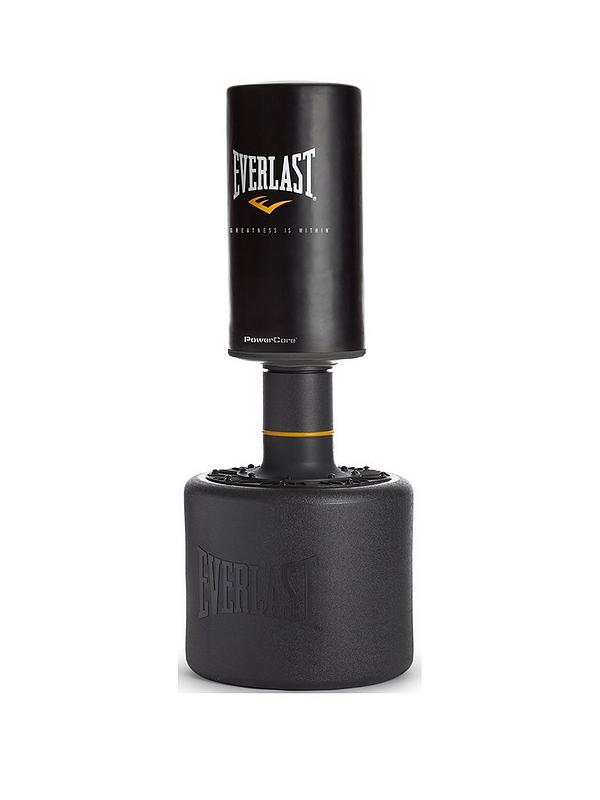 This punch bag comes equipped with a 'Flex Neck' collar that gives it maximum flexibility and helps absorb the impact of heavy kicks and blows. The base is capable of holding over 200lbs of water for great stability and lets you use the bag to its full potential. With Everlasts' 'Nevatear' technology this bag will take any amount of punishment you can throw, without ripping and will also wipe clean easily. It has a lifelike feel due to the density of its inner foam lining, and with several different height settings this free standing punch bag will provide you with hours of high energy workout fun!
Wavemaster Freestanding Punching Bag
This bag has an incredible seven different height settings. Adjustability from 47 inches to 68 inches, gives it universal appeal allowing anybody from small children to full grown adults the opportunity to use this bag. Its wide large base adds for increased stability which helps with accuracy and performance. One of the great things about free standing punching bags is their portability and the Wavemaster is no exception.
It has a low profile 24 inch base which makes it simple to roll away and store when you have finished your workout. Keeping it clean is also a very straightforward process. With its vinyl outer covering it's just a simple wipe clean job. High density foam ensures this free standing punching bag has just the right 'feel' and with a good kickpunch area your workout should turn out to be a really satisfying stress relieving experience.
Power tower Free Standing punching bag
The 'Power Tower' is a great way that the whole family can improve their fitness and agility whilst having fun at the same time. At 5 feet 2 inches, this bag can accommodate both adults and children. That said, the lack of adjustability puts this bag at a disadvantage to other free standing punch bags. It boasts an anti-leak base which adds peace of mind and will store away quite easily. It has a good positive return that provides fast and accurate feedback. Overall a good free standing punching bag but could do with improvement.