Best Small Vacuum Cleaner
Vacuum cleaners have tough job to do in my household with two dogs and a cat, where the traffic is overwhelming. I call myself an expert on small vacuum cleaners, because I am a frequent buyer. Believe me, I tried almost all small vacuums out there!
In my opinion small vacuum cleaners are underutilized home appliances. If only you have the right one, your cleaning will be so much easier. If you need to get small vacuum cleaner for your car cleaning, or just small cleaning chores around the house or apartment you are in the right place. New generation small vacuums are compact vacuums and they are great performers. They are many types of smaller size cleaners and they are all functioning well with great results. Luckily they are many types to chose from: cordless, stick, car vacuums, vacuums for computers, and so on. It may be overwhelming to chose the best one for you, because they are so many models available.
You will be surprised how many options and combinations of vacuum cleaners are out there. Some are targeting specific chores and some are meant to clean everything from dust to pet hair.
Small Vacuum Cleaner Reviews: Handheld Models
Small Handheld vacuum cleaners are usually smaller in size vacuum cleaners and are aimed to clean ad hoc. They usually do not need much storage space and are popular in dorms and small apartments.
Eureka Easy Clean is the most popular and sought after small size vacuum. I found it well performing, with strong suction and very effective. It works very well for pet hair.
This handheld small vacuum is lightweight and great for people with arthritis like me. Cleans everything from cars to upholstery and is very effective with pet's hair. Just great performer.
It is easy to operate and with the small crevice attachment it is easy to get dirt from crevices and corners.
It is lightweight, compact and easy to use in small places and corners. It is bagless, which I appreciate the most.
Best Small Vacuum Cleaner Reviews: Cordless Model
Are you tired of tangled cords when cleaning? Or cords everywhere? Then these small cordless vacuum cleaners are for you.
Cordless vacuum cleaners are very practical, they clean fast and easy, and no cords to bother you! They are very easy to manipulate. They are operated with the help of long lasting rechargeable battery. I found out, that these types are very compact and very well suited for cleaning cars, corners and computers. I am sure you will find more uses. What I really like about them, they are so lightweight.
I like about them the versatility, that they are easy to carry around and the battery is pretty strong. In my household they have a lot of uses and they are utilized daily for smaller cleaning chores and removing pet hair from seats.
Cordless vacuum cleaners will save your sanity and the cleaning job will be done! Find Best Small Vacuum Cleaners cordless vacuums on the market here
Small Vacuum Cleaner Reviews: Canister Model
Canister vacuums are still popular. The main reason is they are portable and lightweight. They do not need much storage space and are ideal for smaller apartments, which is a good thing. They are many brands on the market. See the best selling canister vacuum cleaners.
Eureka 3684F Canister Vacuum
I like the bag less option. It seems that more and more bag less vacuums are on the market. No need to worry about bags sizes, numbers and models. The canister of these vacuums is easy to clean and empty. I hated bags.
Vacuums with canister are lightweight and portable and may be better option from cordless vacuum, because they store more dirt. Here comes into play the personal preference.
What I like about them is they are easy to clean, the price is affordable and they are good for small apartments. They are well suited for floors, carpets and cleaning the pet hair.
In many reviews they received good rating, but in my view they are not so strong as big full vacuum cleaners and they do not reach all places.
Best Small Vacuum Cleaner for Hardwood Floors and Pet Hair
Best vacuum cleaner for hardwood floors and pet hair in one is a great combination pet owner. More and more people is looking for vacuums for hard floors.
BISSELL PowerEdge Pet Hard Floor Vacuum
This combined hard floor and pet hair vacuum cleaner is one of the best performers and people love it. It received 4,5 stars out of 5 which tells you how well performing and popular this model is.
It cleans hard floors and pet hair.
Lightweight.
​Upright.
​The interesting vacuum head is V shaped and helps to direct debris into the centered suction.
Easy and efficiently cleans around the furniture.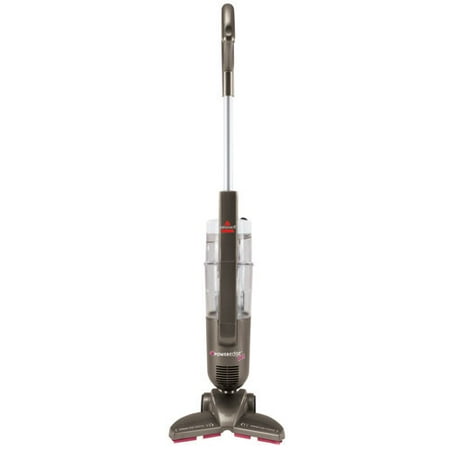 This is the best lightweight vacuum I ever had. It is a good performer and it is easy to operate and it is lightweight.
Best Vacuum Cleaner for Hardwood Floors and Pet Hair
I like the cordless design. You just take it in places not worrying about the power input. Great!
Hoover Linx Cordless Stick Vacuum Cleaner
This is really well-performing vacuum cleaner, which is cordless, bagless and has well-performing suction. This is a winning combination for well performance.
Stick Vacuums and Electric Brooms
Stick vacuums are perfect for cleaning smaller areas. They are lightweight and they reach easy every destination. They are really easy to use especially in corners, under the bed or in small spaces. People like their versatility and easiness of use. They all come with vacuum attachments. They are inexpensive, easy to store and are always handy.
Best Small Vacuum Cleaner as Car Vacuum Cleaner
Car vacuum cleaners are small handheld vacuum cleaners, which have more uses than just car cleaning. They are very handy any time when little spills and cleaning needs to take place. Just handy.
With all attachments they are ideal for car cleaning, but also for computer cleaning and cleaning of small spaces. Handheld vacuum cleaners are compact and fit easy into your hand. They have cool design and are really efficient in cleaning a car. Some handheld vacuums have more attachments, which simplify the cleaning.